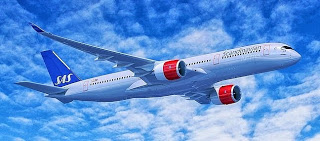 Today, SAS and Airbus have signed the final long haul aircraft order agreement comprising 4 A330-300 Enhanced and 8 A350-900 plus 6 options for A350-900. The Airbus A330 will be delivered 2015/16 and the Airbus A350 will be delivered from 2018.

The aircraft order has the flexibility to include considerable growth and will be financed inter alia by export credit financing and sale & leaseback. The list price of the order is estimated at 3.3 BUSD.
주요 내용입니다. SAS는 에어버스사와 총 4대의 A330-300과 총 8대의 6가지 옵션을 포함한 A350-900을 구매하기로 최종 결정되었습니다. A330기종은 2015-2016년도에 걸쳐 인도받을 예정이고, A350기종은 그 후 3년뒤 (2018)부터 인도받기 시작할 예정입니다. 총 구매가는 약 3.3 billion USD로 추정되고 있습니다.